Purpose and description
The use of a filter circuit reactor of the Schmidbauer DFD series will result in the filter circuit reactors that are created in compensation systems. Used in reactive current compensation systems and form with the capacitors of the reactive current compensation system a series resonant circuit and allow the neces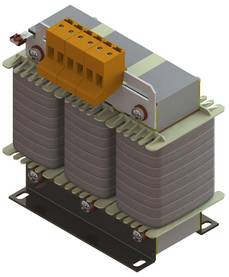 sary reactive power.
For frequently choosen chokes of 7%, the resonant frequency of the series resonant circuit formed by the filter circuit choke and the compensation capacitors is 189 Hz. With a throttling of 14% results in a resonance frequency of 134Hz.
The filter circuit choke also protects the capacitors of the compensation system.
The use of high-quality raw and insulating materials, in particular according to our UL insulation systems class B and F, as well as a careful processing "Made in Germany" guarantee a long service life. The DFD series is designed as an iron core choke to meet the increasing demands of inductive compensation or choked compensation stages. Iron core chokes by Schmidbauer with the Green Core principle with the aim of achieving very low total losses tailored to customer requirements.
Schmidbauer UR-Isolationssystem accord. UL 1446  File E181051

Filter choke
IEC/EN61558-2-20  UL1446
| | | |
| --- | --- | --- |
| Voltage | 3 x 400V AC | |
| uk | p=7% or p=14% | |
| Frequency | 50 Hz | |
| | | |
| Max.ambient temperature | 40°C | |
| Insulation class ( IEC85 ) | F 155°C or H 180°C | |
| Fire protection | UL94HB (V-0 possible) | |
| Degree of protection | IP00 | |
| Protection class (prepared) | I | |
Mounting via mounting bracket for standing mounting
Connections to screw terminals, finger-safe according to BGV A3 or to cable lugs or aluminum / copper lugs
Fully vacuum-impregnated
Filter circuit chokes p = 7%
Reactive Powr


kvar


Current

A


Indctance

mH


Connection

Dimensions
Capacity

µF

Cu-weight

kg


Type and part no.


A
B
C
D
E
F
2,5
3,6
15,4
Screw terminal
125
73
115
90
39
M4
46
0,8
DFD070050
10
14,4
3,8
Screw terminal
 190
 102
 165
 135
57
 M6
185
1,8
DFD070100
12,5
18
3,2
Alu-/cooper tab
 190
 102
 165
 135
57
 M6
231
2,6
DFD070125
15
21,7
2,6
Alu-/cooper tab
 190
 102
 210
 135
57
 M6
278
3,5
DFD070150
20
29
1,9
Alu-/cooper tab
 210
 117
 230
 150
80
 M6
370
4,5
DFD070200
25
36
1,53
Alu-/cooper tab
 230
 148
 240
 176
95
 M6
462
Alu
DFD070250
30
43,3
1,28
Alu-/cooper   tab
 230
 148
 205
 176
95
 M8
555
Alu
DFD070300
50
72,2
0,77
Alu-/cooper tab
 265
 152
 235
 200
102
 M8
925
Alu
DFD070500
Filter circuit chokes p = 14%
Reactive Power


kvar


Current

A


Inductance

mH


Connetction

Dimensions
Capacity

µF

Cu-weight

kg


Type and
part no.


A
B
C
D
E
F
2,5
3,6
Screw terminal
125
73
115
90
39
M4
46
0,8
DFD014050
10
14,4
Screw terminal
 190
 102
 165
 135
57
 M6
185
1,8
DFD014100
12,5
18
Alu-/cooper tab
 190
 102
 165
 135
57
 M6
231
2,6
DFD014150
15
21,7
Alu-/cooper tab
 190
 102
 210
 135
57
 M6
278
3,5
DFD014200
20
29
Alu-/cooper tab
 210
 117
 230
 150
80
 M6
370
4,5
DFD014300
25
36
Alu-/cooper tab
 230
 148
 240
 176
95
 M6
462
Alu
DFD014350
30
43,3
Alu-/cooper tab
 230
 148
 205
 176
95
 M8
555
Alu
DFD014400
50
72,2
Alu-/cooer tab
 265
 152
 235
 200
102
 M8
925
Alu
DFD014450