overview
technical data
PDF data sheet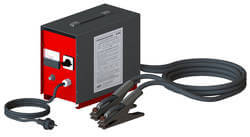 Proved technology for every day use! Special thawing transformer AT400 is suited for thawing frozen water pipes.Transformer is constructed for longevity and vacuum impregnated.
Not suitable for copper pipes!
Instructions of use
Clean connection points of frozen pipe for AT400 grippers
Place the AT400 on a dry, non-combustible underlay. Connect gripper wires firmly to AT400 device.
Fix the grippers tightly to the frozen pipe section
Put the switch to "OFF" position.
Now connect the AT400 to a grounded Schuko type socket for mains power supply
AT400 switch offers 4 level operation (Level 0 = OFF, Level 1 = WEAK/SLOW, Level 2 = MEDIUM, Level 3 = HIGH) –
At any level, current indicator should not exceed 15 A. In this case choose a lower level.
Note: AT400 automatically switches off, if current is permanently > 15 A.
Current flow warms water pipe, the ice inside the pipe is melting.
AT400 should be used in dry environment only. Thawing procedure should be monitored at any time.
Specifications
Robust housing
Transformer with copper winding
4 Level thawing current control:
Level 0 = OFF
Level 1 = WEAK / SLOW
Level 2 = MEDIUM
Level 3 = HIGH
Overload protection
Long operation mode
High thawing current
Large grippers
Long gripper wires
Large wire gauge
Ease of use
Device made in Germany
Included in delivery
Special thawing transformer AT400 will be delivered operation ready for immediate use.
Power cable with Schuko type plug, 3.5 m long. Gripper wires, length 2 x 10 m.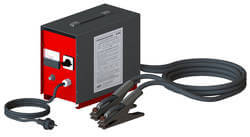 1AC Safety Transformer according to  IEC/EN61558-2-6
| | | |
| --- | --- | --- |
| Order-No. | 74706A | |
| Mains input voltage | 230V | |
| Input power | 3,4kVA | |
| Rated frequency | 50/60 Hz | |
| Thawing voltage | max. 8,0V | |
| Thawing current | max. 450A | |
| Slow-blow fuse | 16 A inactive | |
| Switch-on time | 40% at max. Power | |
| 4 Level operation | 0=OFF / 1=WEAK-SLOW / 2=MEDIUM / 3=HIGH | |
| Ambient temperature | ± 0°C | |
| Cooling method | S (self-cooling) | |
| Insulation class (IEC85) | B 130°C | |
| Degree of protection | IP21 | |
| Dimensions for thawing clamp | ½ to 2 inch | |
| Dimensions LxWxH | 400 x 180 x 280 mm | |
| Weight transformer | approx. 24,50kg | |
| Weight welding cable | approx. 12,00kg | |