overview
technical data
PDF data sheet
Separating Transformer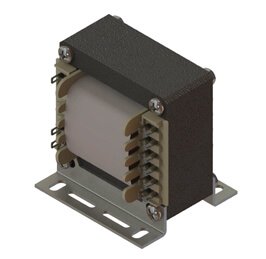 Separating transformer according to IEC/EN61558-2-1. Power supply of devices or controls without the need of a double or galvanic isolation.
Specifications
Special winding construction (1 chamber with shielded winding between PRI and SEC) allows excellent attenuation of mains failures (symmetric/ asymmetric) in SEC circuit.
Shielded winding delivery status: Common grounding connected to transformer core.
PRI winding standard version: 230 V.
Serial or parallel connection of both SEC windings possible – therefore a multitude of output voltages and configurations can be realized.
Connectors: terminal tags.
Mounting via angle brackets.
Transformer core package black-coated.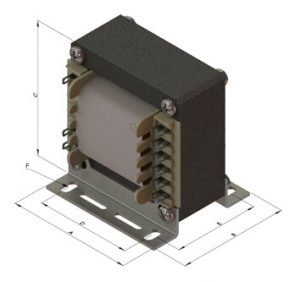 1 phase separating transformer with static shielded winding and terminal tags according to IEC/EN61558-2-1
Input voltage
230V (standard)
Output voltage
2V … 60V
Rated frequency
50/60 Hz
Output power
12 VA … 500 VA
Max. ambient temperature
40°C
ULInsulation System (possible)
B3
Insulation class (IEC85)
B 130°C
Fire protection class
UL94HB (V-0 possible)
Open transformer
degree of protection
IP00
Protection class
I
Mounting via angle brackets
Any mounting position or angle possible
Connections: Terminal tags
STransformer core: black coated
Overview power / dimensions
Power

VA

Dimensions
ca. mm

A

B


C


D


E


F

12

55

46

60

44

35

3,0 x 5,0

0,1

0,5

25
65
58
72
55
45
4,0 x 6,0
0,16
0,85

50

74

64

79

60

50

4,0 x 6,0

0,30

1,35

75

85

64

91

73

50

4,0 x 6,0

0,40

1,85

100

85

76

91

73

63

4,0 x 6,0

0,40

2,50

120

102

77

110

81

61

5,0 x 7,0

0,60

2,85

150

102

77

110

81

61

5,0 x 7,0

0,58

3,15

180

102

95

110

81

78

5,0 x 7,0

0,75

4,20

200

102

95

110

81

78

5,0 x 7,0

0,68

3,72

250

114

82

122

92

71

5,0 x 8,0

0,64

4,40

350
114
100
122
92
88
5,0 x 8,0
0,90
6,20
500
126
112
156
105
91
9,0 x 12,0
1,60
8,00
SEC 2x 10/12/15V (Yellow coloured rows: storage types)
Leistung

VA


Eingangs-
spannungin V
Eingangs-
stromin A

Ausgangs-
spannungenin V
Ausgangs-
stromin A
Typ und

Bestellnummer


Schaltbare Ausgangsspannungen in V
12
230
0,09
2x 10 / 12 / 15
2x 0,40
UNT01223012
Parallelschaltung / doppelter Strom

2 – 3 – 5 – 10 – 12 – 15V

Reihenschaltung / einfacher Strom

2 – 3 – 4 – 5 – 6 – 7 – 8 – 10 – 12 – 13 – 15V

17 – 18 – 20 – 22 – 24 – 25 – 27 -30V

25
230
0,13
2x 10 / 12 / 15
2x 0,80
UNT02523012
50
230
0,27
2x 10 / 12 / 15
2x 1,50
UNT05023012
75
230
0,40
2x 10 / 12 / 15
2x 2,50
UNT07523012
120
230
0,68
2x 10 / 12 / 15
2x 4,00
UNT12023012
180
230
0,92
2x 10 / 12 / 15
2x 6,00
UNT18023012
SEC 2x 20/24/30V (Yellow coloured rows: storage types)
Leistung

VA

Eingangs-
spannungin V
Eingangs-
stromin A
Ausgangs-
spannungenin V
Ausgangs-
stromin A
Typ und

Bestellnummer

Schaltbare

Ausgangsspannungen in V

12
230
0,09
2x 20 / 24 / 30
2x 0,20
UNT01223030
Parallelschaltung / doppelter Strom

4 – 6 – 8 – 10 – 20 – 24 – 30V

Reihenschaltung / einfacher Strom

4 – 6 – 8 – 10 – 12 – 14 – 16 – 20 – 24 – 26 – 28V

30 – 34 – 36 – 40 – 44 – 48 – 50 – 54 – 60V

25
230
0,13
2x 20 / 24 / 30
2x 0,40
UNT02523030
50
230
0,27
2x 20 / 24 / 30
2x 0,75
UNT05023030
75
230
0,40
2x 20 / 24 / 30
2x 1,25
UNT07523030
120
230
0,68
2x 20 / 24 / 30
2x 2,00
UNT12023030
180
230
0,92
2x 20 / 24 / 30
2x 3,00
UNT18023030
SEC 2-4-6-8-10-12V (Yellow coloured rows: storage types)
Leistung

VA

Eingangs-
spannungin V
Eingangs-
stromin A
Ausgangs-
spannungenin V
Ausgangs-
stromin A
Typ und

Bestellnummer

12
230
0,09
2 / 4 / 6 / 8 / 10 / 12
1,00
UNT012230122
25
230
0,13
2 / 4 / 6 / 8 / 10 / 12
2,00
UNT025230122
50
230
0,27
2 / 4 / 6 / 8 / 10 / 12
4,00
UNT050230122
75
230
0,40
2 / 4 / 6 / 8 / 10 / 12
6,00
UNT075230122
100
230
0,55
2 / 4 / 6 / 8 / 10 / 12
8,00
UNT100230122
150
230
0,76
2 / 4 / 6 / 8 / 10 / 12
12,50
UNT150230122
200
230
0,97
2 / 4 / 6 / 8 / 10 / 12
16,50
UNT200230122
SEC 5-10-15-20-25-30V (Yellow coloured rows: storage types)
Leistung

VA

Eingangs-
spannungin V
Eingangs-
stromin A
Ausgangs-
spannungenin V
Ausgangs-
stromin A
Typ und

Bestellnummer

12
230
0,09
5 / 10 / 15 / 20 / 25 / 30
0,40
UNT012230305
25
230
0,13
5 / 10 / 15 / 20 / 25 / 30
0,82
UNT025230305
50
230
0,27
5 / 10 / 15 / 20 / 25 / 30
1,67
UNT050230305
75
230
0,40
5 / 10 / 15 / 20 / 25 / 30
2,50
UNT075230305
100
230
0,55
5 / 10 / 15 / 20 / 25 / 30
3,33
UNT100230305
150
230
0,76
5 / 10 / 15 / 20 / 25 / 30
5,00
UNT150230305
200
230
0,97
5 / 10 / 15 / 20 / 25 / 30
6,67
UNT200230305
250
230
1,20
5 / 10 / 15 / 20 / 25 / 30
8,33
UNT250230305
350
230
1,75
5 / 10 / 15 / 20 / 25 / 30
11,67
UNT350230305
500
230
2,55
5 / 10 / 15 / 20 / 25 / 30
16,67
UNT500230305
SEC 10-20-30-40-50-60V (Yellow coloured rows: storage types)
Leistung

VA

Eingangs-
spannungin V
Eingangs-
stromin A
Ausgangs-
spannungeninV
Ausgangs-
stromin A
Typ und

Bestellnummer

12
230
0,09
10 / 20 / 30 / 40 / 50 / 60
0,20
UNT012230601
25
230
0,13
10 / 20 / 30 / 40 / 50 / 60
0,41
UNT025230601
50
230
0,27
10 / 20 / 30 / 40 / 50 / 60
0,83
UNT050230601
75
230
0,40
10 / 20 / 30 / 40 / 50 / 60
1,25
UNT075230601
100
230
0,55
10 / 20 / 30 / 40 / 50 / 60
1,66
UNT100230601
150
230
0,76
10 / 20 / 30 / 40 / 50 / 60
2,50
UNT150230601
200
230
0,97
10 / 20 / 30 / 40 / 50 / 60
3,33
UNT200230601
250
230
1,20
10 / 20 / 30 / 40 / 50 / 60
4,16
UNT250230601
350
230
1,75
10 / 20 / 30 / 40 / 50 / 60
5,83
UNT350230601
500
230
2,55
10 / 20 / 30 / 40 / 50 / 60
8,33
UNT500230601