Description
High-quality windings as backfeeding choke, boost choke, boost converter choke, commutation choke, chopper choke or HF reactor as modern drive applications for regenerative converter systems in drive technology and in the field of regenerative energies and high power supplies.(batterie charger equipment)
With the help of the Schmidbauer commutation choke the following goals are achieved
Limitation of peak currents
Suppression of electrical network perturbations
larger capacities will be delivered with water cooling on request
The use of high-quality raw materials and insulating materials as well as careful processing guarantee a long service life.
The ideal design of the commutation choke (ratio of iron losses to copper losses) also allows a cost-efficient design.
With our Green core System the efficiency is optimized by the ideal distribution of the air gaps in the iron core.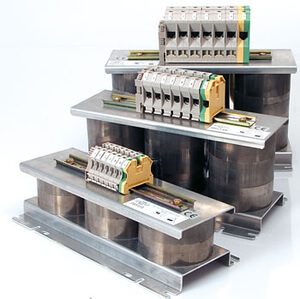 | | |
| --- | --- |
| Technical datas | EN61558-2-20 |
| Voltage | 3x 400 – 480V |
| Frequency | 50/60Hz |
| Power range | 16 KW – 800 kW |
| Max. ambient temperature | -10°C bis 50°C |
| Protectiont | IP00 |
| Connectione | Screw clamp safe to  touch BGV A3 |
| Mounting | Universal screw fastening |
| Insulation class | B or F |
| | |
Schmidbauer UR-Isolationssystem according UL 1446 OBJY2.E181051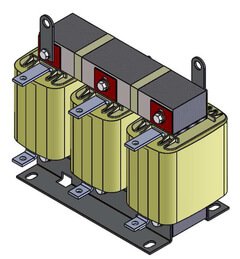 Power

max. kW

Current

max. A


Losses

ca. W

Connection

mm²


Height

mm


Cu-weight

kg


Total weight

kg


Typ and
Part.No.

16
30
170
16
140
2,5
8,9
09513A
25
45
170
16
140
2,8
12
90001A
36
67
250
35
210
3,0
18,5
09514A
45
90
300
35
240
3,8
21
90002A
55
103
350
70
275
4,5
25,2
09515A
72
140
400
90003A
more sizes upon request