overview
technical data
PDF data sheet
Typical applications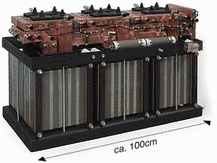 High amperage DC power supply suitable for 3 – 6 VDC output voltages and approx. 80 kA.Input circuit: Thyristor control and primary circuit located taps.
HGV series is used in galvanisation and other high current typical applications and process engineering.
Specifications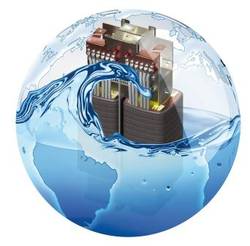 Output voltage of 3 – 6 VDC can be adjusted in 0.5 V steps via primary circuit taps.
Screw terminals for primary circuit connection.
Standard input voltage: 3x 400 V at 50/60 Hz, customer specific adjustments on request.
Output voltage is rectified via double star switching matrix, low remaining alternation – approx. 4.2%.
Output connections: Customer specific solutions, e.g. massive copper bolts.
Number and design of cooling circuits as well as water pressure and water temperature depends on max. load and kind of operation – to be designed by Schmidbauer according to application.
HGV high amperage DC power supplies are constructed and built for permanent operation.
Temperature of diodes and transformer can be monitored and controlled separately (Standard: 2 monitoring circuits with automated temperature switches).
High Amperage DC Power Supply with safety transformer according to IEC/EN61558-2-6
Input voltage
3 x 400V
Frequency
50/60 Hz
Power
70 – 300kVA
Taps on primary circuit for DC output voltage control
3 – 6V in 0,5V-Schritten
set-up exit
connection symbol standard: binary star-circuit
Protection class
I
Degree of protection
IP00
connection electric
primary connection: screw sleeve

exit surface:   custom-build current leads

or massiv copper ports

connection cooling circuit
quick connectors 1/4″ or 1/8″

or custom-build Solutions

Other
Suitable for thyristor control operation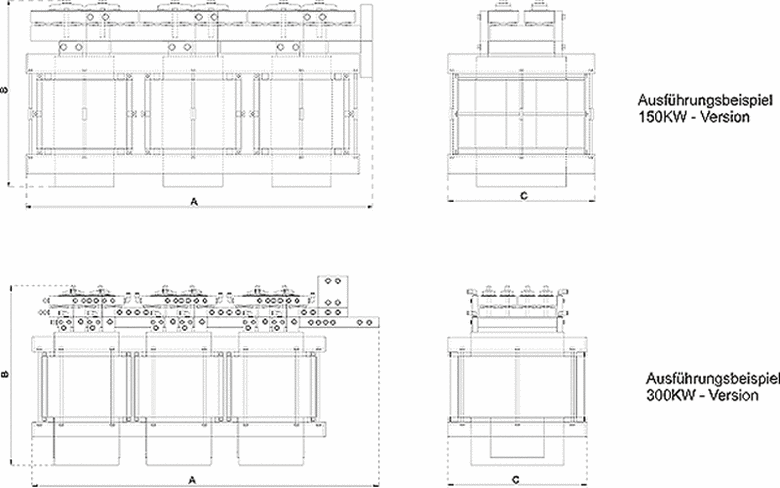 PRI
in V AC
SEC
V DC from….to

SEC
A DC max.

Dimensions
Standard in mm

Copper
weight
kg


Total
weight
kg


Type and
Ordering No.

A


B


C

70

3 x 400

3 – 6

15.000

815

490

385

195

470
HGV 070
100
20.000
905
490
385
262
540
HGV100

150

27.500
905

550

385

310
665
HGV150

200

40.000

1130

560

385

420

850
HGV200

300

60.000

1430

740

575

1020

1700

HGV300