Overview
Technical Data
PDF datasheet
Applications
These three – phase dc power supplies of the DNT series supply an unregulated DC voltage of 24V DC with a residual ripple of <5% under nominal conditions.
Description
These devices are designed to operate electrical and electronic DC devices. They are also particularly suitable for operating your PLC cost-effectively and reliably.
For safe grid separation, three-phase safety transformers built according to EN61558-2-6 are used. The devices comply with protection class I.
The three-phase bridge rectifier with downstream filter capacitor ensures a residual ripple of typically 4.2%. The output is additionally connected to a varistor and protective capacitor. The readiness for operation is indicated by a green LED. The terminals used are finger-safe and comply with VBG4. The power supplies can be operated up to an ambient temperature of 40 ° C with rated power. In order to achieve higher output currents, or to retrofit systems, devices of the same type can be operated in parallel. The total current is reduced by approx. 10% compared to the individual output currents.
The installation of the devices must be done vertically. The DC power supplies are compact and easy to install due to their construction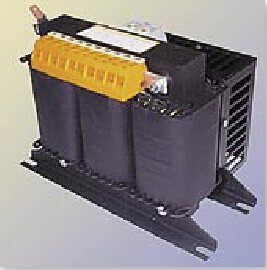 DC Power Supply 24V according to EN60950 / IEC 950
| | | |
| --- | --- | --- |
| Input voltage | 3AC 400VAC [-10% …+10%], different voltages are possible – taps: +5%/-5% | |
| Output voltage | 24V DC irregular acc. DIN19240 | |
| Frequenzy | 50/60 Hz | |
| Power indicator | green LED | |
| Output current | 6 – 83A | |
| Insulation class (IEC85) | B 130°C | |
| Fire  protection | UL94HB (V-0 possible) | |
| Degree of protection | IP0 | |
| Protection class | I | |
Electrical safety according to IEC950 EN60950, EN61558-2-6, UL insulation system E181051
SELV output, device of protection class I with protective earth connection, shield winding between input and output
Protective circuit, parallel connection of the same types possible, terminals finger-safe according to BGV A3, vertical mounting position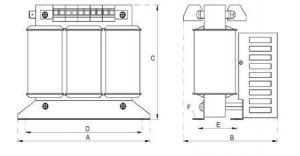 Input voltage

(V AC)

Input current
(A AC)

Output voltage (V DC)

Output current
(A DC)
Power
(W)

Dimensions
ca. mm

Copper weight
in kg


Total weight
in kg


Type and Part no.


A

B

C


D

E


F


3x 400V
0,26
24
6
144
190
115
130
175
49
5,5 x 10,0
0,9
2,2
DNT06
3x 400V
0,35
24
8
192
190
115
130
175
49
5,5 x 10,0
1,3
2,5
DNT08
3x 400V
0,40
24
10
240
190
125
130
175
49
5,5 x 10,0
1,4
3,4
DNT10
3x 400V
0,60
24
15
360
190
140
130
175
74
5,5 x 10,0
1,5
4,8
DNT15
3x 400V
0,78
24
20
480
210
145
151
190
81
5,5 x 10,0
1,7
7,0
DNT20
3x 400V
0,97
24
25
600
210
155
151
190
91
5,5 x 10,0
2,1
8,5
DNT25
3x 400V
1,53
24
40
960
300
210
215
285
87
7,0 x 10,0
3,6
12,6
DNT40
3x 400V
2,23
24
60
1440
300
210
215
285
87
7,0 x 10,0
5,2
15,0
DNT60
3x 400V
3,07
24
83
2000
300
260
215
285
112
7,0 x 10,0
5,5
20,0
DNT83