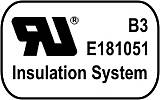 System designation  B3
Insulation class         "B" (130°C) acc. to IEC85
Flamability class      UL94HB until UL94V-0
Operating voltage   until max. 600V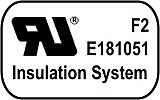 System designation F2
Insulation class       "F" (155°C) acc. to IEC85
Flamability class     UL94HB until UL94V-0
Operating voltage   until max. 600V
To assist you in constructing your systems, serveral of our transformers and inductive components are already approved by UL laboratory.
The basic idea is not to test each insulation component in a single test run, but to test the combined system of insulation components as they act together under the same environmental conditions.
Our testing conditions deliver better results regarding the reaction of different insulation materials combined in one system compared to single testing.
For example, typical insulation components in a transformer: Coil, insulation of copper wires, impregnation, sealing compound, isolating foils, tapes, hoses, etc.
Insulation class B avoids performance reduction or reduction of max. ambient temperature
Today, insulation class B (IEC85) is state of the art technology. This means that all insulating materials may be exposed to a usual operating temperature of 130°C. UL and IEC insulation standards differ in some terms (pls. contact us for detailed informations).
Using our approved systems grant the following advantag
No difference between UL and IEC regarding maximum power.
No power reduction neccessary (according to UL) when using insulation class A.
Transformer system approved according to international standards
Please contact us for detailed information about our UL certified insulation systems.