Overview
Technical Data
PDF Datasheet
Applications
24V DC power supplies based on the proven, reliable and robust 50Hz technology. The output voltage of these unregulated power supplies meets the requirements of DIN19240 with mains fluctuations of ± 10% of the supply voltages, the residual ripple of the output current is below 5%, typically about 3%.
Description
Due to a circuit breaker in the output circuit, the DC voltage supply is conditionally short-circuit proof. In addition, a varistor protects against overvoltages.
Up to an ambient temperature of max. 50 ° C, the power supply units can be operated in any mounting position with nominal load. However, mounting on a vertical surface is advantageous due to better air cooling. The safe mains separation is carried out by a vacuum-impregnated safety transformer according to EN61558-2-6. The mains connection and the output contact are made via touch-proof screw terminals. There are 2 6.3 x 0.8 mm flat plugs available for the PE connection. The readiness for operation is indicated by a green LED. Easily accessible helix angle allows quick and safe installation.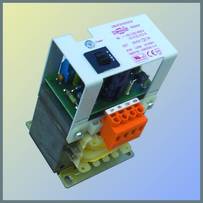 DC power supply 24V acc. EN60950 / IEC 950
Input volatage
GN: 230V AC with tabs +-5% (different voltages are possible)

GNU: 115VAC/230VAC/400VAC

Output voltage
24V DN to DIN19240
Frequency
50/60 Hz
Power indicator
green LED
Output current
3/ 5/ 7 or 10A
Insulation class (IEC85)
B 130°C
Fire protection
UL94HB (V-0 possible)
Degree of protection
IP0
Protection class
I
Electrical safety acc. IEC950 EN60950, EN61558-2-6, UL-Isolationssystem E181051
SELV-output
Vakuum imprengnated
Input voltage
V AC

Input current

A AC


Output voltage V DC

Output current

A DC


Mounting mass

Dimesnsion
ca. mm
Copper weight
in kg

Total weight
in kg

Type and
Part.No.

B
T

H

230 +- 5%
0,51
24
3
64×61
85
86
132
0,33
2,1
GN030230024
230 +- 5%
0,79
24
5
80×71
105
96
152
0,60
3,55
GN050230024
230 +- 5%
1,1
24
7
80×86
105
108
152
0,66
4,4
GN070230024
230 +- 5%
1,63
24
10
90×88
120
115
162
0,95
6,05
GN100230024
115

230

400

1,0

0,52

0,3

24
3
64×61
85
86
132
0,33
2,1
GNU030400024
115

230

400

1,6

0,8

0,46

24
5
80×71
105
96
152
0,60
3,55
GNU050400024
115

230

400

2,2

1,1

0,64

24
7
80×86
105
108
152
0,66
4,4
GNU070400024
115

230

400

3,3

1,65

1,0

24
10
90×88
105
115
162
0,95
6,05
GNU100400024