Purpose and description
The use of a mains choke from the Schmidbauer END series minimizes the system feedback generated by the respective converter. and attenuate the mains faults towards the frequency converter according to EN61558.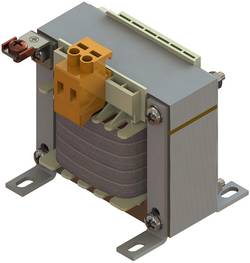 The use of high quality raw and insulating materials according to our UL insulation systems class B and F as well as a careful processing Made in Germany guarantee a long service life.
The use of mains chokes is necessary for current limitation, the suppression of network perturbations or commutation breakdowns. The mains choke must be selected according to the nominal current of the load.
Execution:
Open design, stationary, for device installation and installation in dry rooms. Connection to creep-proof transformer terminals with screw connection. The terminals are hand-back-proof and finger-proof according to UVV (BGV A3).
PE connection as a flat tonque 6,3 x 0,8 mm.
IP 00, insulation class B or F; Max. Ambient temperature 40 ° C (ta40 ° C / B or F)
Mains chokes with different technical data available on request.
Schmidbauer UR-insulationsystem acc. UL 1446  File E181051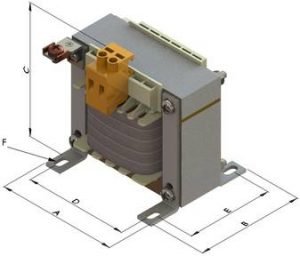 1AC line choke
IEC/EN61558-2-20  UL1446
| | | |
| --- | --- | --- |
| Voltage | 230V AC | |
| Line drop | 4% (4,8% with 60Hz) | |
| Frequency | 50 Hz | |
| Current | 1 to 32A | |
| Max.ambient temperature | 40°C | |
| UL-insulationsystem | B3 (optional F2) | |
| Insulation class (IEC85) | B (optional F) | |
| Fire rating | UL94HB (V-0 possible) | |
| Protectiont | IP00 | |
| Protectiont class (prepared) | I | |
Current
A


Total weight

kg


Inductance
mH


Mounting

Dimensions
ca. mm

E

Copper-weight

kg

Type and
part.no.


A
B
C
D
1
0,3
29
M3
 48
44
66
38
34
0,05
END01
5
0,45
6
M3
 60
 58
 62
 44
 48
 0,08
END05
10
1,1
3
M4
 78
 60
 76
 56
 47
 0,24
END10
16
1,9
1,8
M4
 85
 76
 79
 64
 63
 0,25
END16
25
2,3
1,2
M5
 96
 78
 92
 84
 62
 0,45
END25
32
2,9
0,9
M5
 96
 88
 92
 84
 72
 0,50
END32