overview
technical data
pdf data sheet
Applications and description
LCL filters are used to connect AIC (active infeed converter) and AFE (active front end) drives to the mains.
Due to the increasing use of AFE / AIC, more LCL filters are needed. It can also be run as an LC filter
The LCL filters are also of interest for projects in the DC-AC product range, which feed electric energy from wind generators or PV inverters into the grid.
Applications of regenerative AFE drives are lifts, cranes or similar transport systems, tools or other machines with many brake switching cycles and presses.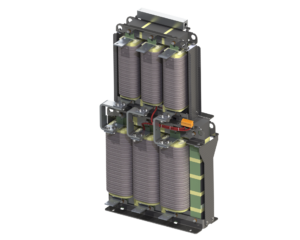 Technical Data

EN61558-2-20

Supply voltage
3x 200 – 3x 690V
Frequency
16 2/3  – 1500 Hz
Power range
5 – 2000 A
Max. ambient temperature
-10°C bis 85 °C (optional liquid cooled or active air cooling)
Degree of protection
IP00-IP65
Connections
5 A – 63  A Screw terminals, finger-safe according to BGV A3

> 63 A Terminal lugs

Elementary frequenzy
2- 80 kHz
Insulation class
F  or H

Intermediate circuit voltage

540 V DC – 1300 V DC
We develop, design, calculate and build filters according to your specifications, depending on the location.