overview
technical data
PDF data sheet
typical applications
1 phase pre-circuit transformer according to IEC/EN61558-2-13 (autotransformer) for general applications without the need of a galvanic isolation, e.g. for transforming typical mains voltage to other voltages needed by tools, machinery or other devices.
VT pre-circuit transformers and other autotransformers do not provide any electrical protection due to the lack of galvanic isolation between input and output windings.
Specifications
Pre-circuit transformers provide windings suitable for following configurations:
0 V … 110 V / 115 V
127 V / 133 V
220 V / 230 V
240 V
These terminals can be used either as input- or output voltage terminals. Output winding must provide external fuse for safety reasons (see table for details)
Terminal tag connections
Vacuum impregnation in polyester varnish – low operating noise.

1 Phase Autotransformer
with terminal tag connections IEC/EN61558-2-13
Voltage range / Input, Output
0-110/115V

127/133V

220/230V

240V

Rated frequency
50/60 Hz
Power range
25 VA … 2500 VA
Max. ambient temperature
40°C
UL Insulation System (optional)
OBJY2.E181051
Insulation class (IEC85)
B 130°C
Fire protection class
UL94HB (V-0 possible)
kind of protection
IP00
degree of protection
I ready
welded earth conductor 2 flat connection 6,3 x 0,8mm
attachment über Montagewinkel in beliebiger Einbaulage
Screw terminals contact proof according to BGV A3
Transformer completely vacuum impregnated
Power
VA
Max. fuse for output winding

(G delay fuse according to IEC127)

A




Dimensions

approx. mm

Type and

Ordering No.

110/115V

127/133V
220/230V
240V
A

B


C


D


E


F

25
0,16
0,16
0,10
0,10
54
45
49
44
34
3,6×7,0
0,07
0,39
VT002

50

0,315
0,25
0,20
0,20
60
47
59
44
36
3,6×7,0
0,10
0,51
VT005

75

0,40
0,40
0,315
0,315
66
60
59
50
49
4,8×9,0
0,15
0,90
VT007
Explanation and vector-groups to applicate 1 phase and 3 phase autotransformers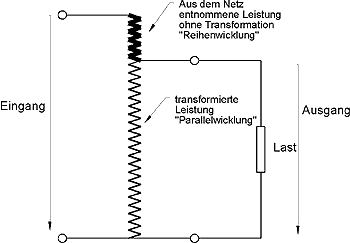 Autotransformers do not provide galvanic isolation.
They have electroconductive connection between input and output winding. It`s not allowed to take autotransformers for electrically protective separation.
If difference between input voltage and output voltage is small:
mains power may be higher
transformed power is lower
size can be reduced (core, copper winding)
Since the high-voltage and low-voltage windings in an autotransformer share a common portion of the same winding, the size and material costs can be reduced.
Example shows 90% power saving compared to an isolating transformer
Equation to calculate the requested size
Example: 1 phase autotransformer / Input voltage 440 V / Output voltage 400 V / "Rated power" needed for application 5 kVA
Identical equation works with 3 phase transformers.

Regarding input/ output "upper" or "lower voltage" is independant, voltage related only for 3 phase autotransformers value of phase voltage is important.
Standard circuit design of 3 phase autotransformers is YNa0. Max. load at neutral wire is approx. max. 10% of nominal current (phase current).
If 100% neutral wire load is requested, circuit design ZNa0 is manufactured.
Note: YNa0 design can be used in certain circumstances, if neutral wire at input provides full load and transformer star point is permanently connected to load. Please contact us for further informations!