overview
technical data
PDF data sheet
1 phase control transformer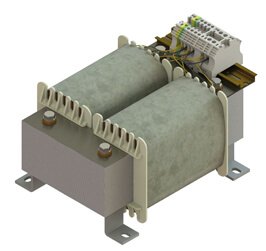 according to IEC/EN61558-2-2 for power supply of control circuits in machinery, terminal blocks (VDE0113/ EN60204).
Specifications
1 phase control transformer offering high short-time power at very low short circuit voltage.
Due to innovative vacuum impregnation in polyester varnish, the noise level is extraordinary low.
Screw terminals contact proof according to VBG4.
For voltage adjusting purposes, primary winding offers taps at ±5% of nominal input voltage of nominal input voltage.
Screw terminal ends (M8 screw) for output currents > 135 A and output voltages < 42 V are not contact proof.
Horizontal mounting via angle brackets, any mounting position or angle possible.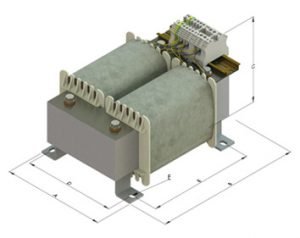 1 phase control-/isolating transformer, safety transformer
Input voltage
100 V … 600 V
Output voltage
12 V … 600 V
Rated frequency
50/60 Hz
Output power
25 VA … 2500 VA
Max. ambient temperature
40°C
Insulation class (IEC85)
B 130°C
Fire protection class
UL94HB (V-0 possible)
Open transformer
degree of protection
IP00
Protection class
I ready
Welded ground wire connection 2 blade terminals 6.3 x 0.8 mm
Mounting via angle brackets in any mounting position or angle possible
Screw terminals contact proof according to VBG4
Transformer completely vacuum impregnated
Übersicht: PRI 230 V   SEK 24 V
Rated power
VA
Dimensions
approx. mm
Copper weight
KG
Total weight
KG
Type and
Ordering No.

A

B

C

D

E

F

2000

175

240

140

146

176

7×13

5,2

15,5

STL020

2500

199

270

135

174

200

7×13

6,9

18,9

STL025

3000

199

270

148

174

200

7×13

7,9

22,9

STL030

4000

223

305

160

192

224

7×13

9,0

30,0

STL040

5000

240

325

155

204

240

9×13

12,6

33,6

STL050

6300

280

355

165

234

280

9×13

16,5

44,5

STL063

8000

280

355

190

234

280

9×13

17,0

55,0

STL080

10000

320

430

205

264

320

12×18

23,0

72,0

STL100