overview
technical data
PDF data sheet
1 phase control transformer

according to IEC/EN61558-2-2 for power supply of control circuits in machinery, terminal blocks (VDE0113/EN60204).
Isolating transformer
according to IEC/EN61558-2-4 for general applications, e.g. electric (galvanic) isolation for devices according to VDE0700/EN60335.
Specifications
Due to the use of high quality insulating materials and special insulation design, ST series can be used as control or isolating transformer.
Our UL insulation system guarantees global application possibilities.
Inrush currents and short circuit behaviour are optimised for use with motor-circuit switches, especially equipped with primary circuit thermal or magentic switching functions.
Transformers are fully vacuum impregnated.
Screw terminals contact proof according to VBG4.
For voltage adjusting purposes, primary winding offers taps at ±5% of nominal input voltage.
Transformers are protection class I ready.
blade terminals for ground wire connection.
Mounting via angle brackets, any mounting position or angle possible
The mounting position must be chosen so that a natural convection through the cooling channels can take place!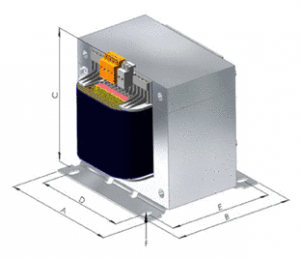 1 phase control-/isolating transformer, safety transformer
according to IEC/EN61558-2-2/4
Input voltage
400 V +/-5%
Output voltage
230 V
Rated frequency
50/60 Hz
Output power
5 kVA … 10 kVA
Max. ambient temperature
40°C
Insulation class (IEC85
B3 Standard
Isolationsklasse (IEC85)
B 130°C
Fire protection class
UL94HB (V-0 possible)
Open transformer
degree of protection
IP00
Protection class
I ready
Welded ground wire connection 2 blade terminals 6.3 x 0.8 mm
Mounting via angle brackets in any mounting position or angle possible
Screw terminals contact proof according to VBG4
Transformer completely vacuum impregnated
Overview: PRI 400 V /  SEK 230 V (yellow coloured rows: storage types)
Rated
power
VA

Short-time
power
at cos (phi) 0.5
VA

Rated input
current
A at 400 V
Dimensions
approx. mm

Cu
weight
KG


Total
weight
KG


Type and
Ordering No.

A

B

C

D

E

F

5.000

12.350

13,3

240

185

245

215

121

10,0×19,0

7,7

33

ST500400230

6.300

17.520

16,5

240

215

245

215

151

10,0×19,0

10,5

44

ST630400230

8.000

23.710

20,8

240

245

245

215

181

10,0×19,0

11,5

54

ST800400230

10.000

26.950

26

240

275

245

215

211

10,0×19,0

15

65

ST1000400230