overview
technical data
PDF data sheet
Low profile safety transformer

according to IEC/EN61558-2-6 suitable for general applications with double or reinforced insulation – max. output voltage: 50 V. E.g. electrical isolation for use in devices, built according to VDE0805/EN60950 regulations.
Specifications
Ultra flat PDB type transformers for use in ultra small power supplies; current- or voltage transformer versions on request.
Height: 15 mm only, max. power: 1.05 VA.
Short-circuit proof constructionTransformer completely sealed with polyurethane varnish in polyamide mold
PTF-UI21 transformers can be customer-specified, e.g. output characteristics, temperature rise for nominal operation/ open-circuit etc.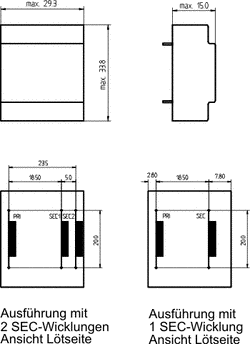 1 phase safety transformer PCB version according to IEC/EN61558-2-6
Input voltage
230V
Output voltage
… 24V
Frequency
50/60 Hz
Max. Power
0,1 … 1,05VA (convection is obligatory)
Max. ambient temperature
40°C
UL-Insulation system (optional)
OBJY2.E181051
Insulation class (IEC85)
B 130°C
Fire protection class
UL94HB (V-0 possible)
Protection class (ready)
III
Connections: Solder pins
diameter ø 0.6 mm for type UI21/7.3.

rectangular shape 0.6 x 0.8 mm for type UI21/6.6
extremly low profile
Any mounting position or angle possible
completely sealed with polyurethane varnish in polyamide mold
Ue = Rated input voltage (50/60Hz)
Ua = Rated output voltage
Uk = Short circuit voltage in %
Ua empty = No-load voltage
dT = Increase of temperature compared to the ambient temperature
Ue
V
Ua
V
Rated
power
VA
Uk
%
Ua empty
at
Ue Rated
(V)
Ua empty
at
Ue x 1.06
(V)
dT
Open-circuit
at
Ue Rated
(K)
dt
Open-circuit
at
Ue x 1.06
(K)
dT
Rated load
at
Ue Rated
(K)
dT
Rated load
at
Ue x 1.06
(K)
Copper
Weight
KG

Total
weight
KG

Core Size
Type
230
7,5
0,9
48
14,4
14,7
28
39
28
32
0,058
0,12
UI21/6,6
PTF009230007
230
9,5
0,9
49
19,7
20,3
29
39
30
35
0,058
0,12
UI21/6,6
PTF009230009
230
12,0
0,9
47
22,1
22,6
28
39
25
30
0,058
0,12
UI21/6,6
PTF009230012
230
15,0
0,9
47
28,3
28,9
27
39
27
30
0,058
0,12
UI21/6,6
PTF009230015
230
18,0
0,9
48
35,9
36,9
28
38
29
32
0,058
0,12
UI21/6,6
PTF009230018
230
24,0
0,9
47
45,9
46,9
29
39
28
31
0,058
0,12
UI21/6,6
PTF009230024
| | | | | | | | | | | | | | |
| --- | --- | --- | --- | --- | --- | --- | --- | --- | --- | --- | --- | --- | --- |
| 230 | 2×7,5 | 0,9 | 47 | 2×14,2 | 2×14,5 | 27 | 39 | 27 | 30 | 0,058 | 0,12 | UI21/6,6 | PTF0092300072 |
| 230 | 2×9,5 | 0,9 | 47 | 2×18,0 | 2×18,4 | 28 | 39 | 27 | 30 | 0,058 | 0,12 | UI21/6,6 | PTF0092300092 |
| 230 | 2×12,0 | 0,9 | 47 | 2×23,0 | 2×23,5 | 29 | 39 | 28 | 31 | 0,058 | 0,12 | UI21/6,6 | PTF0092300122 |
| | | | | | | | | | | | | | |
| --- | --- | --- | --- | --- | --- | --- | --- | --- | --- | --- | --- | --- | --- |
| 230 | 7,5 | 1,05 | 48 | 15,4 | 15,8 | 29 | 39 | 32 | 36 | 0,065 | 0,12 | UI21/7,3 | PTF01,230007 |
| 230 | 9,5 | 1,05 | 45 | 17,6 | 18,1 | 29 | 39 | 28 | 32 | 0,065 | 0,12 | UI21/7,3 | PTF010230009 |
| 230 | 12,0 | 1,05 | 49 | 24,9 | 25,5 | 29 | 40 | 32 | 35 | 0,065 | 0,12 | UI21/7,3 | PTF010230012 |
| 230 | 15,0 | 1,05 | 45 | 26,5 | 27,1 | 29 | 40 | 26 | 31 | 0,065 | 0,12 | UI21/7,3 | PTF010230015 |
| 230 | 18,0 | 1,05 | 46 | 32,0 | 32,7 | 29 | 40 | 27 | 30 | 0,065 | 0,12 | UI21/7,3 | PTF010230018 |
| 230 | 24,0 | 1,05 | 43 | 41,5 | 42,4 | 29 | 40 | 26 | 30 | 0,065 | 0,12 | UI21/7,3 | PTF010230024 |
| | | | | | | | | | | | | | |
| --- | --- | --- | --- | --- | --- | --- | --- | --- | --- | --- | --- | --- | --- |
| 230 | 2×7,5 | 1,05 | 45 | 2×13,3 | 2×13,6 | 29 | 40 | 26 | 31 | 0,065 | 0,12 | UI21/7,3 | PTF0102300072 |
| 230 | 2×9,5 | 1,05 | 45 | 2×17,2 | 2×17,6 | 29 | 40 | 27 | 31 | 0,065 | 0,12 | UI21/7,3 | PTF0102300092 |
| 230 | 2×12,0 | 1,05 | 43 | 2×20,8 | 2×21,2 | 29 | 40 | 26 | 30 | 0,065 | 0,12 | UI21/7,3 | PTF0102300122 |