overview
technical data
PDF data sheet
Typical applications

Flush mounting isolating transformer for safety application "mains breakup".
Definition
Device protection used in normal or harsh environment. Electrical equipment must be disconnected from mains power network, protected active parts of equipment not grounded.
Specifications
Special winding construction (1 chamber with shielded winding between PRI and SEC) allows excellent attenuation of mains failures (symmetric/ asymmetric) in SEC circuit.
Shielded winding delivery status: Common grounding connected to transformer core.
Standard voltages: PRI 230 V and SEC 230 V.
Voltage range PRI 100 V – 600 V and SEC 12 – 400 V on request.
Due to innovative vacuum impregnation in polyester varnish, insulation stability is very high; the noise level is extraordinary low.
Screw terminals contact proof according to VBG4.
Mounting via angle brackets, any mounting position or angle possible.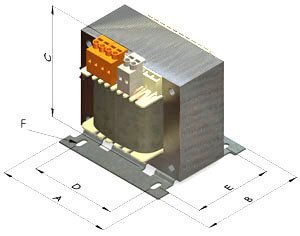 1 phase isolating with static shielded winding
according to IEC/EN61558-2-4  UL1446
| | | |
| --- | --- | --- |
| Input voltage | 100 …. 600V   |  230V (standard) | |
| Output voltage | 12 ….. 400V   |  230V (standard) | |
| Rated frequency | 50/60Hz | |
| Output power | 32VA … 2500VA | |
| Max. ambient temperature | 40°C | |
| UL-Insulation system | B3 Standard | |
| Insulation class (IEC85) | B 130°C | |
| Fire protection class | UL94HB (V-0 possible) | |
| Open transformer – degree of protection | IP00 | |
| Protection class (ready) | I | |
| 2 blade terminals | 6.3 x 0.8 mm – 1 x shielded winding soldered | |
Transformer completely vacuum impregnated
Welded ground wire connector
Screw terminals contact proof according to VBG4
Mounting via angle brackets
Any mounting position or angle possible
Rated power
VA

PRI
V

SEK
V

SEK
A

Dimensions
approx. mm

Cu weight
KG


Type and

Ordering No.

A
B
C
D
E
F
32
230
230
0,13
66
69
78
42
50
3,6×6,0
0,13
0,70
TT003230230
40
230
230
0,17
66
71
73
50
42
4,8×8,0
0,15
0,83
TT004230230
50
230
230
0,21
78
73
84
56
45
4,8×9,0
0,21
1,00
TT005230230
63
230
230
0,27
78
73
84
56
45
4,8×9,0
0,25
1,20
TT006230230
75
230
230
0,32
84
76
90
64
45
4,8×9,0
0,28
1,30
TT007230230
100
230
230
0,43
84
90
90
64
61
4,8×9,0
0,30
1,90
TT010230230
130
230
230
0,56
84
90
90
64
61
4,8×9,0
0,32
1,95
TT013230230
160
230
230
0,69
96
86
101
84
61
5,8×9,0
0,48
2,10
TT016230230
200
230
230
0,86
96
97
101
84
71
5,8×9,0
0,53
2,70
TT020230230
250
230
230
1,08
96
111
101
84
86
5,8×9,0
0,63
3,50
TT025230230
320
230
230
1,39
120
107
119
90
79
5,8×12,0
1,00
4,70
TT032230230
400
230
230
1,73
120
107
119
90
79
5,8×12,0
1,10
5,00
TT040230230
500
230
230
2,17
135
116
130
104
92
5,8×12,0
1,30
6,80
TT050230230
630
230
230
2,73
150
126
142
122
98
7,0×15,0
1,90
9,60
TT063230230
800
230
230
3,47
174
114
156
135
86
7,0×15,0
2,22
11,00
TT080230230
1000
230
230
4,34
174
126
156
135
100
7,0×15,0
2,80
12,50
TT100230230
1250
230
230
5,43
174
126
156
135
100
7,0×15,0
2,60
12,30
TT125230230
1600
230
230
6,95
174
140
156
135
110
7,0×15,0
3,50
15,00
TT160230230
2000
230
230
8,69
192
138
175
150
104
10,0×18,0
4,50
17,00
TT200230230
2500
230
230
10,86
192
154
175
150
120
10,0×18,0
6,10
21,50
TT250230230