overview
technical data
PDF data sheet
Safety transformer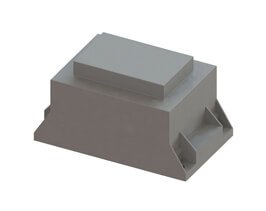 according to IEC/EN61558-2-6 for general applications with double or reinforced insulation and max. output voltage of 50 V, e.g. galvanic isolation for devices according to VDE0805/EN60950 regulations.
Specifications
Transformer completely sealed with polyurethane potting compound in polyamide mold. Sealing compound offers excellent heat conductivity to increase construction and size specific power (compared to unsealed types).
Up to size 4.7 VA solder pins are sufficient to provide foothold on boards. From 4.7 to 15.5 VA use one of the additional mounting brackets on each side of the transformer housing. Starting with 15.5 VA double fixing on each side is recommended (see drawing).
Due to construction version up to 1.85 VA are short circuit proof. Short-circuit proof design for other versions with higher load on request (combined with external fuse and built-in temperature limiter)
Catalog mentioned lead-wire spacing and pin assignment is standard. Other versions (PRI / SEC voltages, pinning) on request.
PTV transformers can be customer-specified, e.g. output characteristics, temperature rise for nominal operation/ open-circuit, PRI/SEC voltages, pinning.
Reduction of max. power in favour of temperature rise is possible on request.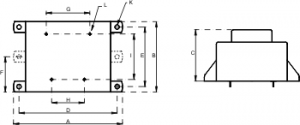 1 phase isolating-/ safety PCB type transformer according to IEC/EN61558-2-6; completely sealed with polyurethane potting compound in polyamide mold 2 chamber version
Input voltage
115 … 230V ( Standard )
Output voltage
… 24V
Rated frequency
50/60 Hz
Power range
0,35 … 190VA
Max. ambient temperature
40°C
UL-Insulation system (optional)
OBJY2.E181051
Insulation class (IEC85)
B 130°C
Fire protection class
UL94HB (V-0 possible)
Protection class (ready)
III
Connections: Solder pins
Any mounting position or angle possible
Ua = Rated output voltage
Power
VA
Open-circuit
voltage Ua x …
Dimensions
approx. mm
Cu
weight KG
Total weight
KG
Core size
Type
A
B
C
D
E
F
G
H
I
K
L
0,35
1,45
32,3
27,3
14,9
–
–
–
20,0
10,0
20,0
–
1,1
0,009
0,042
EI30/5
PTV00035
0,95
1,48
32,3
27,3
21,9
–
–
–
20,0
10,0
20,0
–
1,1
0,011
0,070
EI30/10,5
PTV00095
1,25
1,43
32,3
27,3
23,8
–
–
–
20,0
10,0
20,0
–
1,1
0,013
0,084
EI30/12,5
PTV00125
1,50
1,38
32,3
27,3
26,8
–
–
–
20,0
10,0
20,0
–
1,1
0,014
0,098
EI30/15,5
PTV00150
1,85
1,32
32,3
27,3
29,1
–
–
–
20,0
10,0
20,0
–
1,1
0,016
0,105
EI30/18
PTV00185
3,30
1,31
41,4
35,0
28,3
–
–
–
20,0
10,0
25,0
–
1,1
0,016
0,105
EI38/13,6
PTV00330
4,70
1,38
45,0
38,0
31,8
–
–
–
25,0
15,0
25,0
–
1,1
0,032
0,178
EI42/14,8
PTV00470
8,70
1,33
68,8
42,3
34,6
60,0
–
21,0
25,0
15,0
27,5
4,2
1,3
0,050
0,270
EI48/16,8
PTV00870
12,0
1,34
68,8
42,3
38,5
60,0
–
21,0
25,0
15,0
27,5
4,2
1,3
0,060
0,325
EI48/20,5
PTV01200
15,5
1,26
74,0
47,1
38,8
65,0
–
23,5
30,0
20,0
30,0
4,2
1,3
0,080
0,375
EI54/18,8
PTV01550
23,0
1,19
81,5
53,5
44,7
72,5
43,5
–
30,0
20,0
32,5
4,2
1,3
0,105
0,495
EI60/21
PTV02300
30,0
1,25
81,5
53,5
49,2
72,5
43,5
–
30,0
20,0
32,5
4,2
1,3
0,115
0,505
EI60/25,5
PTV03000
39,0
1,22
87,2
58,6
48,5
77,5
47,5
–
35,0
25,0
35,0
4,2
1,3
0,14
0,690
EI66/23
PTV03900
48,0
1,19
87,2
58,6
55,8
77,5
47,5
–
35,0
25,0
35,0
4,2
1,3
0,16
0,860
EI66/30
PTV04800
58,0
1,18
87,2
58,6
60,2
77,5
47,5
–
35,0
25,0
35,0
4,2
1,3
0,18
0,990
EI66/34,5
PTV05800
74,0
1,167
99,6
67,5
59,0
90,0
57,5
–
40,0
20,0
42,5
4,2
1,3
0,26
1,16
EI78/27,5
PTV07400
95,0
1,13
99,6
67,5
68,0
90,0
57,5
–
40,0
20,0
42,5
4,2
1,3
0,26
1,41
EI78/36,5
PTV09500
103,0
1,129
107,5
70,0
63,0
97,5
60,0
–
45,0
35,0
45,0
4,2
1,3
0,33
1,45
EI84/29,5
PTV10300
140,0
1,11
107,5
70,0
76,5
97,5
60,0
–
45,0
35,0
45,0
4,2
1,3
0,36
1,98
EI84/43,5
PTV14000
158,0
1,10
129,5
84,5
74,6
115,0
70,0
–
55,0
45,0
57,5
6,2
1,3
0,48
2,70
EI96/35,7
PTV15800
190,0
1,10
129,5
84,5
84,4
115,0
70,0
–
55,0
45,0
57,5
6,2
1,3
0,51
2,70
EI96/45,7
PTV19000