overview
technical data
PDF data sheet
Isolating Transformer
according to IEC/EN61558-2-4 for general applications, e.g. galvanic isolation for devices according to VDE0700/EN60335 regulations.
Safety Transformer
according to IEC/EN61558-2-6 for general applications with double or reinforced insulation and max. output voltage of 50 V, e.g. galvanic isolation for devices according to VDE0805/EN60950 regulations.
Specifications
Connections: PCB with solder pins Ø 0.8mm. Recommended board mounting holes: 1.2mm.
Encapsulated coil (mounting according to protection class II or III ready) allows mounting of other components close to the transformer.
Due to innovative vacuum impregnation in polyester varnish, the noise level is extraordinary low.
Any mounting position or angle possible.
Version 0.8/-1.5 VA construction determinded short circuit proof. Short-circuit proof design for other versions with higher load on request (combined with external fuse and built-in temperature limiter)
Catalog mentioned lead-wire spacing and pin assignment is standard.
We recommend bold distance mounting for sizes > 4.4VA.
To improve mechanic foothold on the boards additional solder pins can be attached to the transformer – on request.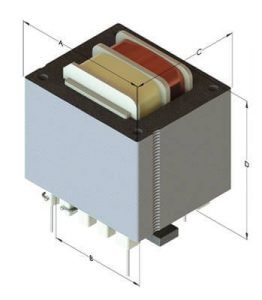 1 phase isolating-/ safety PBC transformer according to IEC/EN61558-2-4; EN61558-2-6
| | | |
| --- | --- | --- |
| Input voltage | 100 … 400V ( 1 winding ) | |
| Output voltage | 6 … 50V ( 1 oder 2 windings ) | |
| Rated frequency | 50/60 Hz | |
| Power range | 0,8 … 56VA | |
| Max. ambient temperature | 40°C | |
| UL-Isolationssystem (optional) | OBJY2.E181051 | |
| Insulation class (IEC85) | B 130°C | |
| Fire protection class | UL94HB (V-0 possible) | |
| Protection class (ready) | II bzw. III | |
Any mounting position or angle possible
Connections: Solder pins (ø 0.8mm) for pcb mounting
Transformer completely vacuum impregnated
Ua = Rated output voltage
Power
VA
Open-circuit
voltage
Ua X …
Dimensions
approx. mm
Copper weight
KG
Total weight
KG
Core size
Type
A
B
C
D
a
b
c
0,8
1,50
30,0
28,5
32,0
21,0
20,0
10,0
20,0
0,01
0,08
EI30/10,5
PT008
1,0
1,70
30,0
28,0
32,0
23,0
20,0
10,0
20,0
0,012
0,09
Ei30/12,5
PT010
1,2
1,43
38,0
27,0
38,0
20,0
20,0
10,0
25,0
0,02
0,10
EI38/7,5
PT012
1,5
1,63
30,0
28,5
32,0
26,0
20,0
10,0
20,0
0,012
0,11
EI30/15,5
PT015
1,8
2,20
42,0
30,7
35,4
23,4
25,0
15,0
25,0
0,023
0,12
EI42/8,5
PT018
2,0
1,58
30,0
28,5
32,0
29,0
20,0
10,0
20,0
0,012
0,12
EI30/18,5
PT020
3,2
1,64
38,0
27,0
38,0
26,2
20,0
10,0
25,0
0,025
0,14
EI38/13,5
PT032
4,2
1,50
38,0
27,0
38,0
29,2
20,0
10,0
25,0
0,025
0,16
EI38/16,5
PT042
4,4
1,51
42,0
30,7
35,4
29,5
25,0
15,0
25,0
0,03
0,18
EI42/14,8
PT044
5,2
1,49
38,0
27,0
38,0
33,2
20,0
10,0
25,0
0,03
0,19
EI38/20,5
PT052
5,3
1,51
48,0
33,7
43,0
29,3
25,0
15,0
27,5
0,035
0,21
EI48/12,5
PT053
6,8
1,43
42,0
30,7
35,4
34,8
25,0
15,0
25,0
0,035
0,24
EI42/20
PT068
8,0
1,36
48,0
33,7
43,0
33,7
25,0
15,0
27,5
0,042
0,26
EI48/16,8
PT080
9,3
1,38
54,0
37,0
45,5
32,3
30,0
20,0
30,0
0,055
0,28
EI54/14
PT093
11,5
1,30
48,0
33,7
43,0
37,3
25,0
15,0
27,5
0,055
0,32
EI48/20,5
PT115
13,0
1,31
54,0
37,0
45,5
37,4
30,0
20,0
30,0
0,065
0,34
EI54/18,8
PT130
14,0
1,27
48,0
33,7
43,0
42,3
25,0
15,0
27,5
0,065
0,40
EI48/25,5
PT140
16,0
1,25
60,0
42,5
50,0
37,5
30,0
20,0
32,5
0,090
0,43
EI60/16
PT160
18,0
1,24
54,0
37,0
45,5
43,8
30,0
20,0
30,0
0,072
0,48
EI54/25,5
PT180
20,0
1,22
60,0
42,5
50,0
42,5
30,0
20,0
32,5
0,092
0,52
EI60/21
PT200
26,0
1,20
60,0
42,5
50,0
47,0
30,0
20,0
32,5
0,100
0,58
EI60/25
PT260
26,0
1,24
66,0
47,2
55,0
41,5
35,0
25,0
35,0
0,120
0,58
EI66/18
PT260
30,0
1,17
60,0
42,5
50,0
52,0
30,0
20,0
32,5
0,110
0,70
EI60/30
PT300
33,0
1,19
66,0
47,2
55,0
46,5
35,0
25,0
35,0
0,140
0,74
EI66/23
PT330
34,0
1,17
60,0
42,5
50,0
56,5
30,0
20,0
32,5
0,120
0,77
EI60/35
PT340
41,0
1,17
66,0
47,2
55,0
53,5
35,0
25,0
35,0
0,145
0,86
EI66/30
PT410
48,0
1,16
66,0
47,2
55,0
58,2
35,0
25,0
35,0
0,160
1,00
EI66/34,7
PT480
56,0
1,13
66,0
47,2
55,0
63,5
35,0
25,0
35,0
0,180
1,13
EI66/40
PT560